Ropex
A need was identified for the provision of equipment to enable science programme to be under taken on board a Royal Navy vessel.
The programme was essentially an oceanographic study in the Weddell Sea using a range of standard instruments. The project required collaboration between BAS and the Royal Navy (HMS Endurance).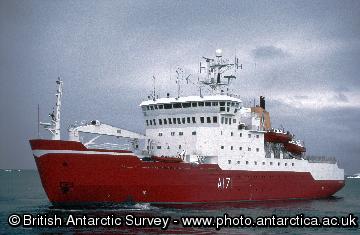 AME were asked to provide a suite of equipment to enable the vessel to be adapted for this purpose.
The BAS science team on board the vessel required facilities to deploy and recover moored instrument arrays, carry out air sampling experiments and conduct oceanographic measurements. HMS Endurance is military vessel and not ideally suited for the purposes of science it was essential to provide equipment that could be easily installed, operated and maintained by the science team, with minimum assistance of ship's personnel.
The engineering element of the project incorporated many different aspects. These included initial feasibility, design, specification of equipment , planning, provision of approvals and negotiations with the Royal Navy and Royal Navy dockyard authorities, to provide facilities suitable to meet the necessary requirements for both science and military purposes.
The equipment provided for the programme was a mixture of off the shelf instrumentation, purpose designed facilities and equipment on loan from other institutes. This included:-
Two Containerised laboratories

Moorings deployment container

CTD Winch with gantry

Seabird CTD & rosette system

Moorings deployment winch

Water processing facility
All facilities were designed to be self contained, only requiring ship's main power supply. Build quality is of the very highest standard in order to cope with the extreme environmental conditions