Rothera Flight Operations Tower
Rothera is a base on the tip of Adelaide Island on the Antarctic Peninsula. It is run by the British Antarctic Survey for the purpose of carrying out scientific experiments. It is the main base used for field operations, whereby a fleet of 4 Twin Otters carry personnel and equipment deep into the Antarctic mainland.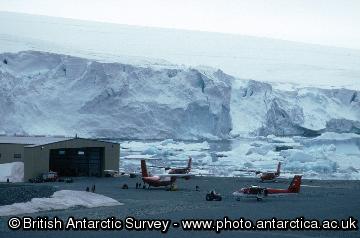 A Dash 7 aircraft also operates from Rothera to ferry personnel and cargo between the Antarctic, The Falkland Islands and Chile. There are also several visits each year from aircraft from other polar research institutions operating in the Antarctic. This coupled with several visits from ships makes Rothera a very busy place.
The communications staff working at Rothera have to keep the airstrip open twenty four hours a day s in order to cover all the communications needed and to ensure safe operations.
The current operations room was far from adequate to cope with the increase in communications traffic seen at Rothera. It was too small and the equipment was so close together that only one operator could use it at any one time. Also the view of the runway and apron areas was severely restricted.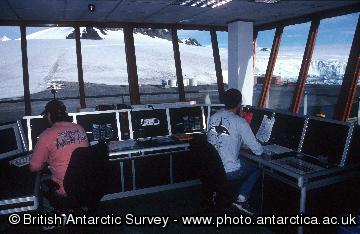 The solution to this was for BAS to build a new operations tower. This was to be similar to an Air Traffic Control Tower with an unrestricted 360° view from an elevated position. The Communications Team challenge was to produce a suitable console to house all the equipment needed, allow two people to work comfortably and to ensure safe passage of flights to and from Rothera.